Uncommonly Good Products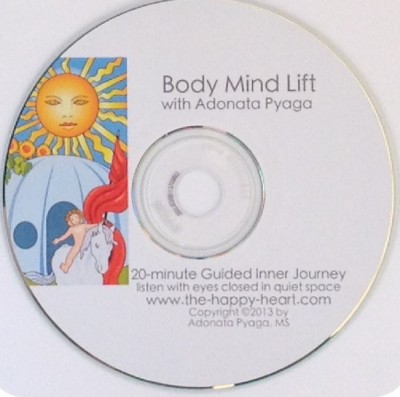 BODY MIND LIFT is a system for improved mood, outlook and physical well-being.
Results you can expect:
Greater connection with your body

Greater self-kindness

Greater appreciation toward yourself

Improved health

Improved relaxation states

Increased satisfaction with life

Increase positive outlook

Increase healrt-connection
What is included: CD or MP4 with 20-minute Guided Audio Inner Adventure.
PDF or Booklet with written exercises that deepen results of audio

Each time your journey outcome will be different. At the very least you will feel refreshed. Other times you will have significant improvements in bodily states, life satisfaction, and self-appreciation.
This journey will nourish your body and lift your heart.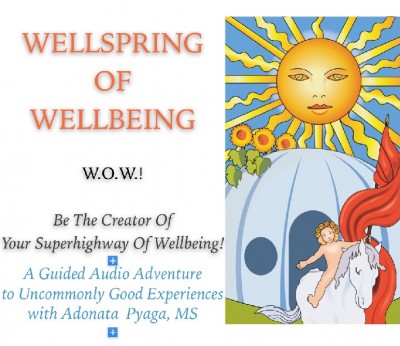 Wellspring Of Wellbeing = W.O.W.!
It is your greater destiny to dwell in happiness and accomplish great things!
Practice expanding and sustaining more uplifting feelings with this audio and activity manual
Be the Creator of Your Superhighway of Wellbeing!
This Guided Audio Adventure will help you tap into your inner wellspring and draw from it anything you need.
If you have ever wondered how to meditate correctly, how to not be bored, get lost or frustrated during your practice, the steps present here will guide you with precision. You will directly experience the core of your being.
Results you can expect:
Results from one-time use:
Experience a connection with the core of your being, the place where infinite wellbeing is ever present

Experience profound body relaxation

Experience immediate inner calm

Experience immediate increase in joy

Results from frequent use:
Feeling connected, aware and present in your body more than ever before

Choosing better and better feelings to be your companions in life

Reversal of poor health and stress symptoms with the power of your intention

Confident to navigate through life with ease and grace

Experiencing the world as a positive and supportive place

Becoming a positive force for good wherever you are

In the long term, expect to:
Be flooded with feelings of love, calm, joy, and positive expectation

Consistently generate more desirable emotions and moods in your day-to-day life

You no longer need to wait to feel good, wait to be worry-free, anxiety-free, depression-free.
You can generate these, even while your outer life appears troubled.